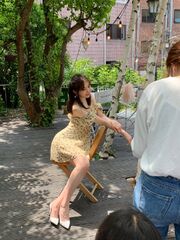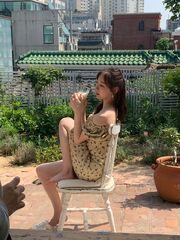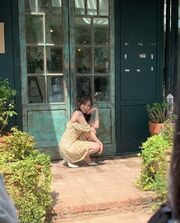 Her hometown is Yongin, South Korea.
She is the "Father" of IZ*ONE.
Chaeyeon is nicknamed "Feather" because of her feather-like dancing.
She wants her new nickname to be Panda as it's her favorite animal.
She trained for 4 years and 1 month, but it took 5 years for both sisters to debut.
She is a former JYP Ent. trainee.
She appeared in the show SIXTEEN, the show that created TWICE, but sadly was eliminated first.
Chaeyeon has 2 younger sisters: Lee Chaeryeong (A year and a half younger than her), which also took part in SIXTEEN, but also sadly got eliminated, and Chaemin (6 years younger than her).
Unlike Chaeryeong, Chaeyeon did not study in Hanlim.
On SIXTEEN she was known as a "fashion holic."
Chaeyeon and Chaeryeong auditioned for Fantagio in 2012. Chaeyeon became a trainee after getting top 5, but she did not train with members from Weki Meki.
Chaeyeon was a contestant of KPOP Star season 3 along with her sister, Chaeryeong. Both were cast by JYP Entertainment, so Chaeyeon left Fantagio, and joined JYP Entertainment with Chaeryeong. Both also competed in SIXTEEN to become members of Twice. Chaeyeon was eliminated in round 1, Chaeryeong was out in the finals.
Chaeyeon's sister Chaeryeong, is a member of JYP's girl group ITZY. They are both main dancers in their repsective groups.
They both dislike carbonated drinks and like root vegetables like corn, sweet potatoes and pumpkins.
Produce 48 was her third try at a survival show and debut.
She self-taught herself Japanese for a year before joining Produce 48.
She was a part of KYW Dance School and uploaded some dance covers.
Her talent is making choreographies.
She has poor eyesight in the sense that she can't see well in the dark.
She likes playing badminton and cooking in her spare time.
Chaeyeon can learn choreography extremely well and rapidly. She learned the 1000% chorus choreography whilst only watching it one time.
She can play the piano and guitar.
Her favourite type of music is pop songs/JYP songs.
Chaeyeon is friends with Stray Kids' Changbin, CRAVITY's Allen, AB6IX's Daehwi, Woojin, Woong (they're all ex-JYP trainees).
Chaeyeon is extremely good at girl's hip hop.
Chaeyeon's habit is hiding her forehead.
Chaeyeon used to wear braces.
She has a dog named Chaeri.
She can speak Japanese and English.
She likes spicy food, but cannot stand heat as well as Chaewon and Hitomi.
Chaeyeon's favorite ice cream flavor is yogurt.
The members said that Chaeyeon is good at cooking.
Chaeyeon was crowned as "Dancing Queen" by the members in both "Idol Room" and "Weekly Idol".
If she were a boy, out of the IZ*ONE members, she'd date Sakura.
Chaeyeon is close to Twice members, fromis_9's Jiwon, Jeon So-mi and AB6IX's Daehwi.
In 2021, she became the main choreographer and creative director for Full Moon stage during IZ*ONE ONLINE CONCERT: ONE, THE STORY.