We're Getting Mutants in the MCU - The Loop
Play Sound
"Kwon Eun Bi" (권은비), also simply known as "Eunbi" (은비), is a former member and leader of IZ*ONE. She is a soloist under Woollim Entertainment, who became a member of the project group after participating in Produce 48 as a contestant and finishing in 7th place in the ranking.
Official Profile
Birthday: September 27, 1995
Blood type: A
Height: 160cm
Hobby: Watching movies, Hand writing, Shopping, Reading
Talent: Playing instruments
Career
Childhood
Eunbi was born as Kwon Eunbi (권은비) on September 27th, 1995 in Siheung-Dong, Geumcheon-Gu, Seoul, South Korea. Her family consists of her Mother, her Father and older Brother (2 years older) At a young age, she loved IU's music and dreamed of being a kpop idol, even at her parents objections. She joined a dance group titled PLAY, and began playing the guitar, while working part-time as a teenager at the franchise Paris Baguette.
Ye-A and Disbandment
In 2014, she attended the School of Performing Arts Seoul before becoming a trainee under Kiroy Company and debuting as a member of Ye-A on July 18, 2014, with the single National Treasure under the stage name "Kazoo". In mid-2015, Kiroy Company was purchased by Shinhoo Company and subsequently, Ye-A went into hiatus. There was never an official disbandment announcement, but due to the closing of fan cafes and social network accounts, it can be assumed the group disbanded around this time.
Woollim Entertainment
In 2016, Eunbi signed with Woollim Entertainment as a trainee, and it is believed that around this time she enrolled at Dong-ah Institute of Media and Arts college in Anseong, South Korea (Under the Broadcasting Department and Entertainment). She continued training under Woollim, and ended up becoming a backup dancer for Lovelyz.
Produce 48
Eunbi was announced as a contestant in May of 2018, and competed in the show, having high ranks since the first episode. Her first evaluation grade is A, and her re-evaluation is C. She is known for being a great leader in the show and her great charisma skills, notably during the Rumor performance. She placed seventh on the show overall with 250,212 votes, making her a member of IZ*ONE.
IZ*ONE
The group officially debuted on October 29, 2018 with their first mini album COLOR*IZ with the title track, La Vie en Rose.
Education
She attended Geumdong Elementary School, Dongil Middle School, the School of Performing Arts and currently she is attending Dong-Ah Institute of Media and Arts.
Solo debut
After IZ*ONE disbanded on April 29, 2021, in an interview with with ESQUIRE Korea on July 17, Eunbi revealed that she is working on her first mini album for her solo debut. The name of the album is OPEN, which was released on August 24.
On March 21, 2022, Eunbi announced that she will be making her first solo comeback with the release of her second mini album COLOR on April 4.
Official Character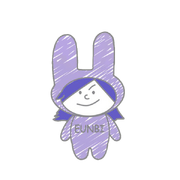 Filmography
Television
COUNT DOWN TV (1993)
Pops in Seoul (1998)
Shabekuri 007 (2008)
Hello Counselor: Season 1 (2010)
Weekly Idol (2011)
Ye-A's Holic U (2014)
Buzz Rhythm (2015)
Knowing Bro (2015)
Baek Jong Won's Alley Restaurant (2018)
Amazing Saturday (2018)
Idol Room (2018)
Produce 48 (2018)
IZ*ONE CHU (2018)
IZ*ONE ENOZI Cam (2018)
IZ*ONE MEET & GREAT COLOR*IZ (2018)
QT Show (2018)
Human Intelligence – The Most Perfect A.I. (2018)
IZ*ONE Amigo TV (2018)
IZ*ONE ENOZI Cam + (2018)
Nice to Meet You! IZ*ONE's First Steps in Japan (2019)
IZ*ONE CITY (2019)
IZ*ONE Suki to Iwasetai Showroom (2019)
2019 Idol Star Athletics Championships (2019)
IZ*ONE Japan Debut Talk (2019)
IZ*ONE CHU: Season 2 (2019)
IZ*ONE MEET & GREAT HEART*IZ (2019)
TMI NEWS (2019)
Produce X 101 The Beginning (2019)
Produce X 101 (2019)
IZ*ONE ARCADE (2019)
2019 Idol Star Athletics Championships Chuseok Special (2019)
IZ*ONE #StyleVlog in LA (2019)
Busted 2 (2019)
‏2020 Idol Star Athletics Championships (2020)
IZ*ONE ASMR*IZ UNBOXING (2020)
Star Road: IZ*ONE (2020)
K-Bob Star (2020)
IZ*ONE ARCADE II (2020)
IZ*ONE Eat-Ing Trip (2020)
IZ*ONE CHU: Season 3 (2020)
IZ*ONE X LieV (2020)
IZ*ONE Housewarming Party (2020)
IZ*ONE Chemi Room (2020)
Just Comedy (2020)
Hidden Singer: Season 6 (2020)
Today's Delivery: Pilot (2020)
IZ*ONE CHU: Season 4 (2020)
2020 Idol eSports Athletics Championships (2020)
Videos
Discography
Mini Albums
Digital Singles
bimil:ier Vol.4 "MIRROR"

(2022)
ESPER (2022)
Song Credits
Pairings
Units
Unit Songs
References