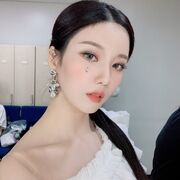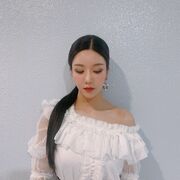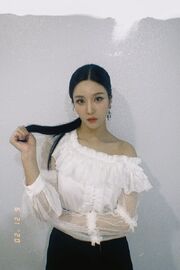 She is a former member of Ye-A, where her stage name was Ka-Zoo. She was the maknae in that group by the time the group disbanded.
She was born in Siheung-Dong, Geumcheon-Gu, Seoul, South Korea.
She has an older brother who is two years older than her. When Produce 48 happened, she was seen wearing a Korean Army top because he was in military at the time.
When her old teachers and classmates saw her on Produce 48, all of them sent her encouragement messages.
She was part of a dance group called PLAY.
She was a back-up dancer for Lovelyz.
Her favorite ice cream flavor is chocolate green tea.
She is known to look like Red Velvet's Irene and Joy.
She admires IU.
According to Hyewon, she is a very messy eater. In IZ*One Chu 2, she had to put a yellow top to cover her uniform because she spilt her food.
Her specialties are dancing, impersonations, and pop art.
She got awarded for model aircraft, paper airplanes and water rocket contests.
She also got third place in Chinese character contest.
She also completed a 10km marathon as a 4th grader. (2005), and silver medal in a 200m race as a 6th grader.
Between HyeYul, Wings and her, only she would rather be only on 5% battery than running out of Data on the phone. She also would rather be able to read minds over being able to teleport, and prefers Netflix over YouTube, and is the only one to prefer eating seafood forever over meat.
She is IZONE's mother, and the other Woollim trainees also say she's like a mother to them.
She worked part time at the franchise Paris Baguette. Because of this, she is good as recognizing different types of bread by taste alone.

The place is known for having a large item list. Chuu of Loona quit after one day because she couldn't remember it.

Her dream job, however, was to become a kindergarten teacher.
She has a Confucian-like style of leadership, as she would adjust to each member's personalities to treat them.
Her hobbies are running and shopping.
She can play the guitar.
In IZ*One Chu 2, she gave the following gifts to each member (including herself):
Eunbi: Macaroon
Hitomi: Cabbage Juice, as she has poor gut health
Chaewon: Voice recorder
Sakura: 2 Letters (one poorly written as it was written left handed, and a properly written right-handed), Detroit: Become Human PS4 Game and birthday cake, as it was filmed near her birthday
Chaeyeon: Snacks
Nako: Phone case with dog decorations
Hyewon: Lipstick and scented candles
Minju: Teen novel
Yujin: Sports top
Yena: Duck-shaped cap
Yuri: A bagpack
Wonyoung: Training pants
According to Chaewon, she has comparatively expensive taste in clothing, and speak with essentially a lisp.

In 2021 Eunbi received LASIK surgery to correct her vision, a day before Chaewon.
She describes herself as "ice" because she is often very calm and collected, but when she cries and takes care of others, she melts like ice would. She also likes iced drinks.
According to Fantastic IZ, she has the most diverse array of aegyo out of the group. She is the only one who can also perform sexy, elegant or old-fashioned aegyo that younger members have never seen.
She will be the first member to debut solo.
It was revealed that she became friends with Wendy of Red Velvet as they go to the same nail art shop. By that point, Chaewon has left Woollim Entertainment.