We're Getting Mutants in the MCU - The Loop
Play Sound

"Kang Hye Won" (강혜원), also simply known as "Hyewon" (혜원) is a former member of IZ*ONE. She is a soloist and actress under 8D Entertainment, who became member of the project group after participating in Produce 48 as a contestant and finishing in 8th place in the ranking.
Official Profile
Birthday: July 5, 1999
Blood type: B
Height: 163cm
Hobby: Watching dramas
Talent: Piano
Career
Childhood
Kang Hyewon was born on July 5, 1999 in Yangsan, South Gyeongsang, South Korea. Her family consists of her Mother, her Father, her younger brother Kyeong-woo and their dog Zeze. Hyewon is known for being a math genius and having an ulzzang face. She is also called the 'Selca Queen' for her great photography skills.
Trainee Days
She is a former K Entertainment trainee and also became a former HYWY Entertainment trainee before joining 8D Entertainment. Hyewon almost debuted in a group called DAYDAY with Lee Suhyun from Produce 101 and K-Pop Star's Jeon Minju but her debut got cancelled.
Produce 48
On 2018, she was announced to be participating the show. She impressed the fans and coaches with her visual beauty, Hyewon was known as the innocent rapper and was mysterious. She was apart of a performance team named The Promise along with Wang Yiren, Park Haeyoon, Miyawaki Sakura and Takeuchi Miyu. She finished 8th place with 248,432 votes making her debut in IZ*ONE.
Debut in IZ*ONE
The group officially debuted on October 29, 2018 with their first mini album COLOR*IZ with the title track, La Vie en Rose.
Education
She attended Habuk Elementary School, Bokwang Middle School, Then attended Bokwang High School but left Bokwang to study in Hanlim Multi-Arts School.
After IZ*ONE's contracts ended in April 2021, Hyewon returned to 8D Entertainment.
Official Character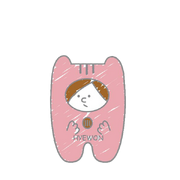 Filmography
Television Shows
Produce 48 (2018)
IZ*ONE CHU (2018)
IZ*ONE Enozi Cam (2018)
IZ*ONE MEET & GREAT COLOR*IZ (2018)
QT Show (2018)
Live Quiz for Dummies (2018)
Human Intelligence – The Most Perfect A.I. (2018)
IZ*ONE Amigo TV (2018)
Nice to Meet You! IZ*ONE's First Steps in Japan (2019)
IZ*ONE CITY (2019)
IZ*ONE Suki to Iwasetai Showroom (2019)
2019 Idol Star Athletics Championships (2019)
IZ*ONE Japan Debut Talk (2019)
IZ*ONE CHU: Season 2 (2019)
My Little Television 2 (2019)
IZ*ONE MEET & GREAT HEART*IZ (2019)
TMI NEWS (2019)
Produce X 101: The Beginning (2019)
Produce X 101 (2019)
IZ*ONE Arcade (2019)
Prison Interview (2019)
2019 Idol Star Athletics Championships Chuseok Special (2019)
IZ*ONE #StyleVlog in LA (2019)
Busted 2 (2019)
BOATTA (2019)
2020 Idol Star Athletics Championships (2020)
IZ*ONE Treasure Hunt (2020)
IZ*ONE ASMR*IZ UNBLOCKING (2020)
Star Road: IZ*ONE (2020)
K-Bob Star (2020)
IZ*ONE Arcade II (2020)
Eyes On Me: The Movie (2020)
IZ*ONE Eat-Ing Trip 1 (2020)
IZ*ONE CHU: Season 3 (2020)
IZ*ONE X LieV (2020)
IZ*ONE Housewarming Party (2020)
IZ*ONE Chemi Room (2020)
Dong Dong Shin Ki (2020)
IZ*ONE CHU: Season 4 (2020)
2020 Idol eSports Athletics Championships (2020)
Random Q (2020)
IZ*ONE Eat-Ing Trip 2 (2020)
Fantastic IZ : Hidden School (2021)
IZ*ONE Eat-Ing Trip 3 (2021)
Discography
Special albums
Digital singles
Song Credits(
Pairings
Units
Unit Songs