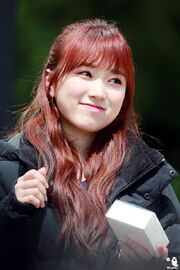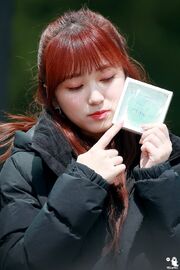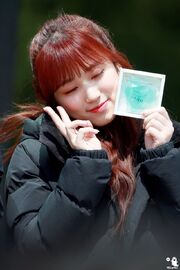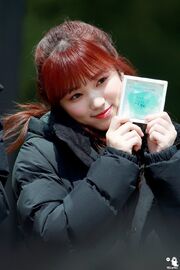 Nako was born in Tokyo prefecture, Japan.
Her family consists of her mother, younger, and elder sister. She, like her sisters all have their names end in ko (子), a very common name ending for females. Her younger sister was born in Korea. [1]
Nako is under HKT48. She auditioned for HKT48 instead because her idol, Sashihara Rino was transferred there. To meet residency requirements, she moved to Fukuoka with her little sister and mother.[1]
She trained for 4 years and 10 months. That is despite her starting out as a child actress from 4 years old.
Before receiving proper vocal training in Produce 48, both her and Hitomi's singing voices are quite nasally. Nako has improved to the point of using head voice to sing the highest note in the ballad version of Into The New World (E5).
When she was 7, she shot a commercial with 2010 Olympic Silver medallist figure skater, Mao Asada.[1]
Her charm point is her dimples in which she "gets from her mama."
Nako can do ballet. She trained for 9 years (3-12 years old), and can memorize choreographies as quickly as Hitomi.
She has kept parakeet, parrots and quails as pets.
Compared with Hitomi, Nako can memorize Korean lessons by heart, but Hitomi had to write them in her notebooks.
She enjoys watching movies by herself, karaoke, playing cards, eating ice, and "stretching out her short neck."
Nako likes to play card games specially daifugou. (stage48.net)
Her favourite candy is choco pie.
She can't have udon due to allergy, suggesting that she has gluten intolerance.
She is scared of eating buckwheat noodles as her father is allergic to it, and she fears the allergy could be passed down to her.
Her favourite food is caramel pudding.
Nako loves ice cream.
Nako's skill is to braid her hair fast.
Nako is a Platinum-ranked player in PUBG.[1]
Debuted in HKT48 in 2013 with the 3rd Generation.
Became the center of Wink wa Sankai within a month of debuting in HKT48.
Was known as the ace of the 3rd Generation.
Was the second youngest member to get a concurrent position at 13 years, 9 months, and 9 days.
A "Love Berry" exclusive model.
Revealed that she appeared in a commercial for Koala March crackers before joining HKT48.
Appeared in "Love Stories from Fukuoka 10" and "Majisuka Gakuen" in 2015 as supporting roles.
She is afraid of heights, as with all members in Japanese Line.
She is also petrified of needles, hence she never figure out her blood type, but Sakura suspects she is A-type for years.
Nako is the best at Korean in the Japanese Line
Was the shortest trainee on Produce 48.
Nako was known as the girl who ranked from F to A on Produce 48.
Nako said that if she was a boy, she would date Yena because she's charming.
Nako is a fan of Twice and especially Jihyo . Twice was the first KPop group she had seen in 2018, which would had been when Twice released Bulldozer in Japan.

That said, she is also a fan of every JYP Entertainment girl group. She can guess all the artists' songs correctly.

Despite being the shortest, she owns a few sets of oversized clothing, which allowed others to swap clothes with her.
She likes kiwifruit, but she developed allergy to it in 2020 when they would make her lips swell up.
She only likes dark cherries, but not Maraschino cherries or cherry-flavored foods and drinks.
Believes she was a cat in her previous life.
On April 1, 2020, it was revealed through Nako's private mail that she got her blood type checked. Her blood type is O, which was previously unknown.
Is friends with her fellow 3rd generation mate and also another HKT ace, Tanaka Miku., and is shipped with her known by fans as "NakoMiku". They often compare heights, with Miku being only 2cm taller than Nako
In 2021, her grandmother passed away, but she was unable to return to Japan due to Japan's border being closed as per COVID-19 restrictions since 2020.