We're Getting Mutants in the MCU - The Loop
Play Sound
"Miyawaki Sakura" ( 宮脇 咲良, Miyawaki Sakura?, 미야와키 사쿠라) is a Japanese singer and a former member of the Japanese idol girl group HKT48. She is currently a member of LE SSERAFIM under Source Music. She is a former member of IZ*ONE, who participated in Produce 48 finishing in 2nd place in the ranking, making her a member of the project group. She is also the former co-captain of HKT48's Team KIV and a former concurrent member of AKB48's Team A.
On May 15, 2021, during an HKT48 livestream, Sakura announced her graduation from the group and her graduation concert, which was held on June 19, 2021.
Official Profile
Birthday: March 19, 1998
Blood type: A
Height: 163cm
Hobby: Playing Games
Talent: Drawing funny pictures
Career
Childhood/Pre-Debut
She was born in Kagoshima, Japan. Her family consists of her mother, father and her younger brother Sotaro. Her family are close in age as her parents had her at a very young age. She also has a pet ginger cat, Maru-chan. During her childhood, she performed in theatres because of her mother's love for musicals. In 2010, she had the chance to go to New York for a musical workshop. This eventually led her to audition for HKT48. Her parents were against it but she gained support from her grandmother. Sakura was known for being a smart child and studied in a private school in Kyushu called Shigakukan Junior High School. During an interview she said she studied 10 hours per day. She then moved to Fukuoka and is currently residing in Tokyo. She attended Kagoshima City Shiritsu Seiwa Elementary School, Shigakukan Middle School for junior high and graduated from Kurume High School.
HKT48/AKB48
Sakura joined HKT48 as a first generation kenkyuusei (trainee) in July 2011. She made her first official appearance as a HKT48 member on October 23 at a national handshake event for the song "Flying Get". On March 4, 2012, she was promoted to Team H, and was then transferred to Team KIV and appointed as team co-captain during the HKT48 Team Shuffle. On February 24, 2014 during the AKB48 Group Dai Sokaku Matsuri, Sakura was given a concurrent position in AKB48 Team A. Her kennin position ended on December 8, 2017 during the AKB48 Theater 12th Anniversary Performance. In 2015 she released her solo photobook called 'Sakura'. Sakura is also known for being a famous member within the 48 Group and has achieved a high ranking in the general election every year, making her part of the Kami 7. In 2018, she ranked in the 3rd place in the general elections, making her a senbatsu member for AKB48's 53rd single, Sentimental Train. In the same year, she became the center for AKB48's 54th single, NO WAY MAN, along with Nako and Hitomi, which will be their final release before temporarily joining IZ*ONE.
Produce 48
On May 11, 2018, Sakura was announced as a contestant on Produce 48 and was voted as the center for the theme song, Nekkoya. Her first evaluation grade and her re-evaluation grade was A, as she surprised the coaches and viewers with her good facial expressions and how she memorized both Korean and Japanese lyrics of the song Nekkoya. She was apart of a performance team named The Promise along with Wang Yi Ren, Park Hae Yoon, Kang Hye Won and Takeuchi Miyu. On August 30, she finished at 2nd place with 316,105 votes, debuting as a member of the project group, IZ*ONE.
IZ*ONE
The group officially debuted on October 29, 2018 with their first mini album COLOR*IZ with the title track, La Vie en Rose.
Post-IZ*ONE
On May 15, 2021 after returning to Japan, she announced her graduation from HKT48 after the Japanese magazine, Vivi, accidentally leaked her July interview that she will be graduating from the group. A short version of the music video of her graduation song, "Omoide ni Suru ni wa Mada Hayasugiru", was uploaded to YouTube on June 14, while the official audio was released on June 20. Her graduation concert, <Bouquet> was held at Marine Messe Fukuoka on June 19. Her send-off party was held on June 27 at the HKT48 Theater, marking her final theater performance.
On August 17, rumors surfaced that she would be recruited into Source Music's new girl group. Later, HYBE released a brief statement in response to the claims that they "cannot help verify information regarding our artist contracts. We ask for your understanding." On August 27, she returned to Korea to discuss a new contract with HYBE. On September 23, it was reported that she had signed an exclusive contract with Source Music. In response to the report, a representative of HYBE once again issued the following statement: "We cannot confirm any details regarding an artist's exclusive contract."
On September 15, it was announced that Sakura would be launching her own cosmetics line called 'CRAN' in partnership with the Japanese color contact lens brand 'MOLAK'. Product sales began in December of the same year.
On November 1, 2021, Vernalossom announced that Sakura's contract with them has ended.
On March 14, 2022, it was announced that Sakura and IZ*ONE's former groupmate Chaewon had officially signed to Source Music and would be debuting in their upcoming girl group. Subsequently, on March 21, it was announced that the new girl group, in which their name was later revealed to be LE SSERAFIM, would be making their debut in May. On May 2, the group made their debut with their first mini album Fearless.
Official Character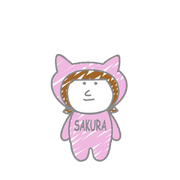 Discography
Singles
Song Credits
Concerts
Photobooks
Radio
Filmography
Ano Hi to Ano Hi (2012)
Himitsu (2013)
Majisuka Gakuen 4 (2015)
Majisuka Gakuen 5 (2015)
AKB Horror Night: Adrenaline's Night (2015)
Majisuka Gakuen 0 (2015)
AKB48 General Elections Special: The Akiba Papers (2016)
Crow's Blood (2016)
AKB Love Night: Love Fatory (2016)
Doctor-Y: Surgeon Hideki Kaji (2016)
The Hero and The Seven Chosen Ones (2016)
Documentary of HKT48: The Night Theater (2016)
Raison D'etre: Documentary of AKB48 (2016)
Cabasuka Gakuen (2016-2017)
Tofu Pro-Wrestling(2015)
Shanghai Love Map (2018)
IZ*ONE CHU (2018)
Everyone's Kitchen (2019)
Eyes On Me: The Movie (2020)

Pairings
Units
Unit Songs